The Be Kind People Project Full Circle
October 1, 2022 7:00 PM - 11:00 PM
|

Chase Field
---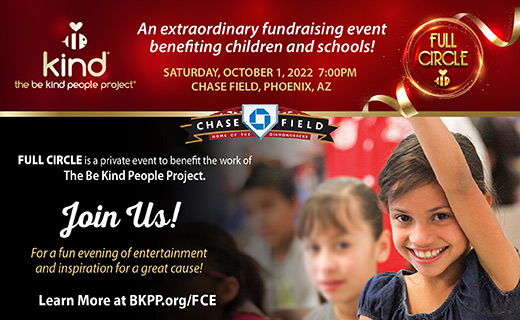 We are a proud supporters of The Be Kind People Project's FULL CIRCLE Event.
Saturday, October 1st, 2022, 7:00pm

Chase Field

The Be Kind People Project's FULL CIRCLE includes a dynamic onstage production by THE BE KIND CREW®, plus happy hour and an extraordinary and unmatched private event on center field at Chase Field, home of the Arizona Diamondbacks. FULL CIRCLE will raise money for The Be Kind People Project to deliver character education to help children thrive emotionally and academically and to help them build respectful and responsible interpersonal relationships and social skills.

The Be Kind People Project® is a public 501 (c) 3 non-profit that initiates a positive change in the overall learning environment and provides relevant learning and youth development opportunities that inspire humanity, academic achievement, and healthy living for students wherever and however they learn. Attend FULL CIRCLE and help deliver the skills of kindness to 100,000 students across the country, enhancing students' social and relationship skills, resilience, and emotional well-being.
Click here to learn more about the Be Kind People Project
Dazzle on the Diamond at FULL CIRCLE!
Purchase your tickets at WWW.BKPP.ORG/FCE


Click here to purchase tickets
Traditional Folklorico Performances
Ongoing
Our dances are back! Bring your family and join us for live, colorful and traditional Folklorico per...
Music in the Desert
Ongoing
Music to my ears! Desert Sky Mall is bringing in local talent to entertain our shoppers. Grab a bite...